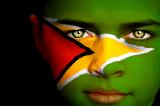 Last time in guyana:

i was in guyana 6 years ago for my uncle wedding.planning on going this christmas for my cousin wedding.

One guyanese dish you enjoy:Dahl and rice, Dry food (provisions) ,curry with puri or roti
cheese straw, cheese roll,black cake,and pepper pot.

Household item that best resembles : plants, we have alot of plants in our house and that just reminds me of the house i lived in back home cuz my mom always fill the house with it.
Say something in guyanese dialect :Wah yuh talk bout? lol my accent is not so strong because i have been in the US for 11 years and i came up here when i was 7. where i live makes it hard to continue speaking with my accent because there is not alot of west indians that i know of,but when i go to NY i am always refreshed by the guyanese or the caribbean ppl that i hear talking to their family or friends.



Which part of guyana are you from

: I am from lodge in georgetown, but most of the time i went up to mahicony to visit my cousins.

What you like most about guyanese cluture: i like the fact my country is in south america and that distinguishes us from the other island people in the caribbean, i like how we have festivals and difference kind of food. As a guyanese i herd a old saying that we love the sun and i do. my country has keep their native people history alive and keeps the rain forest untampered by industries. i love our music and the traditions we have such as qweh qweh and phagwa.